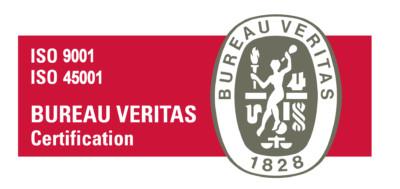 Policy – Health and Safety
Le Gaz Intégral is certified ISO 45001 by Bureau Veritas
In full understanding that preventing the risks of its activity is the way to follow, Le Gaz Intégral implemented an HSE management system compatible with the international norms and the specificity of its own activity.
Health and Safety on our offices as well as on Construction sites are essential consideration in our Project execution and daily works.
Policy – Quality ISO 9001
Le Gaz Intégral is certified ISO 9001-2015 by Bureau Veritas
The activities covered by the ISO 9001-2015 are the management, the engineering, the procurement, the inspection (bulk materials, equipment, works…) as well as the fabrication and assembly works on the construction site and at subcontractors' facilities.
The quality metrics of the different processes are analysed during formal process reviews and management reviews. Those metrics are transmitted to the Quality Manager and Company management to define and follow the improvement action plan.
The information related to the efficiency of the system is published and availed to each employees making anyone an actor of the improvement.